The long read: Luxembourg has shown how far a tiny country can go by serving the needs of global capitalism. Now it has set its sights on outer space. By Atossa Araxia Abrahamian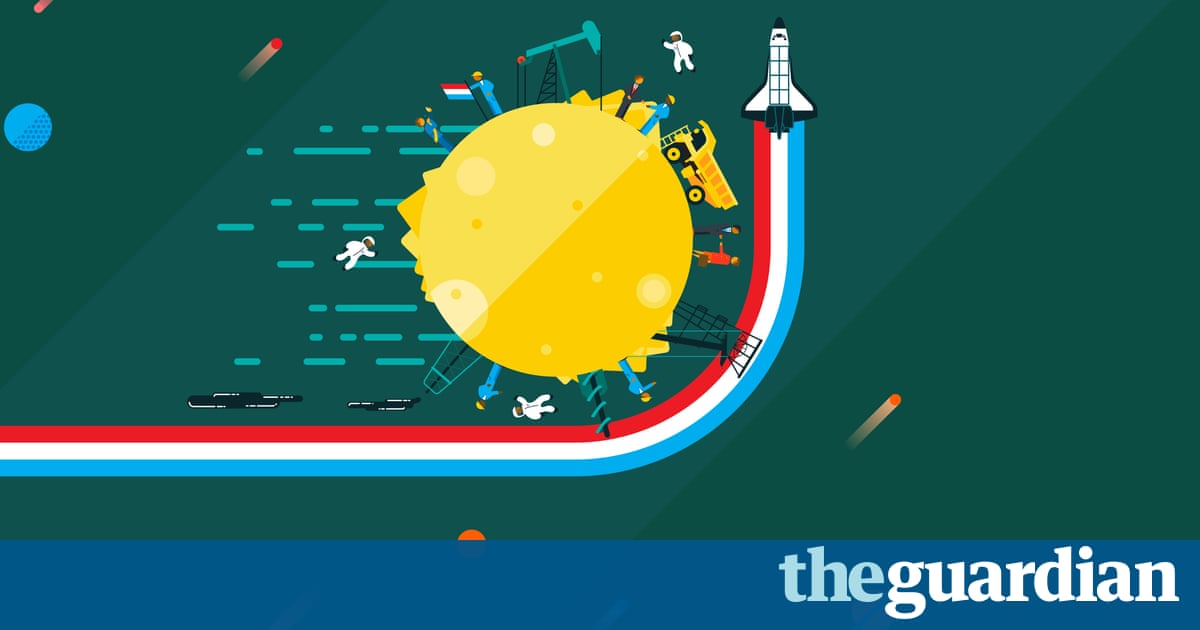 On a drizzly afternoon in April, Prince Guillaume, the hereditary grand duke of Luxembourg, and his wife, Princess Stéphanie, sailed through the front doors of an office building in the outskirts of Seattle and into the headquarters of an asteroid-mining startup called Planetary Resources, which plans to "expand the economy into space".
The company's engineers greeted the royals with hors d'oeuvres, craft beer and bottles upon bottles of Columbia Valley rieslings and syrahs. In the corner of the lounge stood a vintage Asteroids arcade game; on the wall hung an American flag alongside the grand duchy's own red, white and blue stripes. Between the two flags was a prototype of a spacecraft designed to roam the galaxy, prospecting asteroids for precious natural resources that would someday – at least in theory – make the shareholders of Planetary Resources very wealthy earthlings indeed.
The nation of Luxembourg is one of Planetary Resources' main boosters. The country's pledge of €25m (£22.5m) – which includes both direct funding and state support for research and development – is just one element of its wildly ambitious campaign to become a terrestrial hub for the business of mining minerals, metals and other resources on celestial bodies. The tiny country enriched itself significantly over the past century by greasing the wheels of global finance; now, as companies such as Planetary Resources prepare for a cosmic land grab, Luxembourg wants to use its tiny terrestrial perch to help send capitalism into space.
Space exploration has historically been an arena for grand, nationalistic operations that were too costly, dangerous and complex for civilians to take up without state backing. But now, private companies want in, raising questions that, until recently, have seemed like mere thought experiments or hypotheticals: who can lay claim to an asteroid and all of its extractive wealth? Should space benefit "all of humankind", as the international treaties signed in the 60s intended, or is that idealism outdated? How do you measure those benefits, anyway? Does trickle-down theory apply in zero-gravity conditions?
Space is becoming a testing ground for these thorny ethical and legal questions, and Luxembourg – a tiny country that has sustained itself off of regulatory intricacies and tax loopholes for decades – is positioning itself to help find the answers. While major nations such as China and India plough increasing sums of money into developing space programmes to rival Nasa, Luxembourg is making a different bet: that it can become home to a multinational cast of entrepreneurs who want to go into space not for just the sake of scientific progress or to strengthen their nation's geopolitical hand, but also to make money.
It already has a keen clientele. Space entrepreneurs speak of a new "gold rush" and compare their mission to that of the frontiersmen, or the early industrialists. While planet Earth's limited stock of natural resources is rapidly being depleted, asteroid miners see a solution in the vast quantities of untapped water, minerals and metals in outer space. And the fledgling "NewSpace" industry – an umbrella term for commercial spaceflight, asteroid mining and other private ventures – has found eager supporters in the investor class. In April, Goldman Sachs sent a note to clients claiming that asteroid mining "could be more realistic than perceived", thanks to the falling cost of launching rockets and the vast quantities of platinum sitting on space rocks, just waiting to be exploited.
"[Mining asteroids] is not a new idea, but what's new is state support of the idea," says Chris Voorhees, the chief engineer of Planetary Resources. "Everyone thought it was inevitable but they weren't sure when it would occur." Now, he says, Luxembourg is "making it happen".
The grand duchy – which has all the square footage of an asteroid and, with a population of half a million, not all that many more inhabitants – has earmarked €200m to fund NewSpace companies that join its new space sector; to date, six have taken it up on the offer. It has sent officials to Japan, China and the UAE to talk about space exploration partnerships, and appointed space industry veterans, including the ex-head of the European Space Agency, to advise them. In May, it took out a glossy supplement in Scientific American magazine to signal it is committed not just to helping businesses, but to advancing research as well.
And in July, the parliament passed its law – the first of its kind in Europe, and the most far-reaching in the world – asserting that if a Luxembourgish company launches a spacecraft that obtains water, silver, gold or any other valuable substance on a celestial body, the extracted materials will be considered the company's legitimate private property by a legitimate sovereign nation.
The presence of royalty at Planetary Resources HQ ahead of the passing of the law was a canny part of the country's space incursion. The young couple was there to dazzle, charm and lend gravitas to the operation – European aristocracy doesn't show up in suburban office parks any old day – but the mission's greater aim was to impress upon Silicon Valley executives, the bemused Luxembourgish press and space scientists around the world that mining asteroids was no longer science fiction. To that end, the royals were accompanied by about 40 of their subjects, all of whom had a role to play in this emerging industry.
Etienne Schneider, Luxembourg's congenial deputy prime minister, led the delegation. With his easy manner, excellent English and penchant for fancy cars, he cuts a Macronian figure: a product of European socialist political parties, sure, and a social liberal to his core – Schneider is married to a man – but one who will willingly play handmaiden to global capitalist interests should the right opportunity arise. He announced recently that he would be running for the role of prime minister in 2018.
With Schneider came a delegation of scientists, trade attaches, bankers, lawyers and local journalists who switched between German, English, French and the local language, a consonant-heavy mix of Flemish and German with the occasional foreign word thrown in to supplement: "meeting", "framework", "brunch". ("We don't have all the words," a member of the delegation told me sheepishly.) In French, the language is known as Luxembourgeois, which pretty much says it all; the duchy's 500,000 citizens, who have a GDP per capita of $104,000 (£78,800), are the wealthiest in the world after Qatar's, according to the International Monetary Fund.
The Planetary Resources team took their benefactors on a tour of the labs where its hardware is built. The company isn't mining asteroids yet, but to benefit from Luxembourg's concessions, it opened an office in the grand duchy this year. Up close, its Arkyd 6 spacecraft – which is ready for launch – looks just like satellites look in the movies, only smaller. It had multiple flaps and appendages, including an infrared sensor, a star tracker to orient the craft in space and a GPS unit, which works only in the earth's orbit.
Once the tour was complete, cocktail hour began. Schneider, who owns a vineyard, bounced from one conversation to another, brimming with enthusiasm. To end the visit, Chris Lewicki, the CEO of the company, gave a toast praising Luxembourg's contributions "to an abundant future for all of humanity". As a parting gift, he presented her royal highness with a necklace. Instead of jewels, it was studded with tiny fragments of asteroids.
---
It is reasonable to wonder what, exactly, a marginal European monarchy, egged on by a vivacious gay socialist, was doing telling American entrepreneurs on the cutting edge of innovation that their hamlet-sized state could propel humanity – and capitalism – into deep space. The grand duchy has no national space agency, no launching sites, and only modest research capabilities. It opened its first and only university in 2003 and its military consists of 1,008 troops. Luxembourg does not fit the image of a spacefaring nation; in fact, some have questioned whether it should even be a nation at all.
Yet Luxembourg's very essence – as a speck in the heart of Europe – allows, even requires, it to partake in such ambitious ventures. Its national motto is "We want to remain what we are" and, over the centuries, this independent spirit has endured occupations by the dukes of Burgundy, the kings of Spain and France, the emperors of Austria and the king of the Netherlands. Today, the state, which only gained full independence in 1867, occupies a curious position in the global imagination: a country with an outsized economic influence that everyone has heard of, but that no one can quite locate on a map.
According to Gabriel Zucman, assistant professor of economics at UC Berkeley, the country is hard to miss in the financial world. "Luxembourg has private banks like Switzerland, it has a big mutual fund industry like Ireland's, it's used for corporate tax avoidance like Bermuda or the Netherlands, and it also hosts one of the two international central depositories for securities, so it's active in euro bonds," he says. "It's the tax haven of tax havens, present at all stages of the financial industry." Tony Norfield, a former banker in the City of London who now writes on global finance, has described Luxembourg as "a paragon of parasitism".
The story of how a marginal and relatively powerless country has survived world wars, economic crises and cataclysmic technological advances to become a banking and finance powerhouse tells us a lot about how far a small country can go if it devotes itself to anticipating and accommodating the needs of global capital. It's a contentious business: for every happy shareholder praising Luxembourg's business-friendly rules and money-saving loopholes, there's a critic condemning Luxembourg's willingness to expedite the regulatory "race to the bottom".